Equal Pay Rally Oct 2016
Equal Pay Rally Oct 2016
X Public Service Stability Document
"As a moral imperative and in order to protect teaching as profession, a fair and sustainable resolution of the issue of pay inequality must be accelerated, not delayed."
Junior Cycle Protest
RTE News
Junior Cert Reform Clarification November 2016.
DirectiveClassContactHours2017
-------------------------------------------------
Equal Pay
------------------------------------------------------------------
S&S
As provided in the S&S Circular, the DES has issued the following instruction to management bodies this week:
where an eligible teacher can demonstrate to the satisfaction of the Department that because of their particular circumstances they were not in a position to avail of the opt-out option prior to 11 August 2017, an opt-out application from such a teacher will now be considered, provided that such application is received by the Department on or before Friday 29 September. As the original effective date of 1 September 2017 has now passed and in order to allow schools to make the appropriate operational arrangements, where such applications are approved the opt-out and associated salary reduction will be effective from Monday 6 November 2017."
FEMPI Protest 18th. November 2015.
Branch Meeting:
Tuesday 24th. October. 2017 at 8pm
.
Venue: Lucan Spa Hotel
Followed by the Branch's AGM at 9.15pm.
**Closing date for Nominations for Branch Officiers 4pm Tuesday 10th October 2017.
Closing date for Motions re amendments to Standing Orders, also 4pm Tuesday 10th October 2017.
** see Standing Orders: Article 15 & 15(a).
Congress 2013 Galway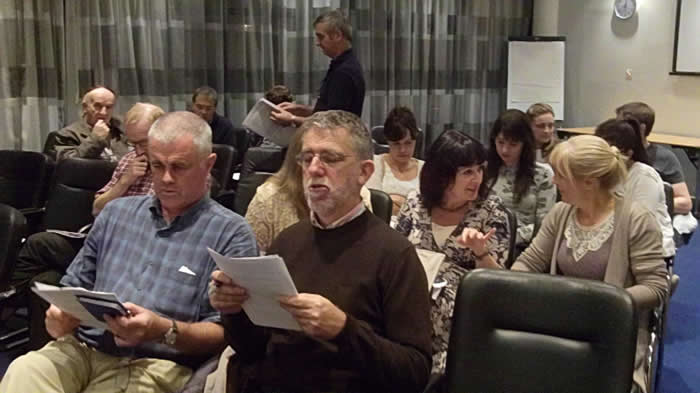 Branch Meeting
Bernie Ruane (AGS) & Mairead Glynn (Chair)
(in regulation attire?)
Circular Letter: Haddington Road
CID
Appeal
Circular Letter
Latest Circular(CL0059) re Sick-Leave
Scheme for Leave of Absence following Assault for registered Teachers.....
CL0061 -2017
Dublin C&C 2015-16 Executive Officers + Area Rep.
Congress 2015 Wexford
Congress 2017 Cork